Alpha Worgen

Alpha Worgen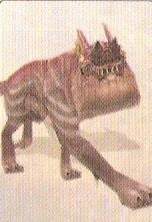 Alpha Worgen is an enemy from Final Fantasy XII that appears in the Dalmasca Estersand and Mosphoran Highwaste. They are typically accompanied by Worgens.
STATS
Level
HP
MP
Strength
Magic Pwr
Vitality
28-29
30-32
2413-2523
2413-2633
198-213
32-36
32-34
32-36
18
18
45-46
45-47
Speed
Attack Pwr
Defense
Magic Res
Evasion
Exp
20-21
20-22
41-42
41-43
20
20
24
24
6
6
1036-1129
1036-1222
LP
CP
Gil
1
1
198-279
198-360
0
0
Elemental Properties
Fire
Ice
Lightning
Water
Wind
Earth
Holy
Dark
-
-
-
Weak
-
-
-
-
Items
Drop
Steal
Poach
Fire Magicite (common)
Smelling Salts (uncommon)
Quality Pelt (rare)
Libra Gem (very rare)
Fire Magicite (common)
Hi-Potion (uncommon)
Steel Poleyns (rare)
Quality Pelt (common)
Throat Wolf Blood (rare)
Other Info
Immunities
Disable, Doom, Lure, Sap
Attacks/Abilities
Eerie Soundwave, Lunge, Screech
Other
-
[edit]
Bestiary Entry
NO.: 113-B
GENUS: Beast
CLASSIFICATION: Wolf
[edit]
Observations
Being a variety of wolf with fur of eye-searing red, known to hunt in well-organized packs. Of them, the alpha worgen are the strongest, and the pack leaders.
The fur is doubtlessly for protection from the strong sunlight and arid environs in which they dwell, the exception being the band of bright yellow stretching from their eyes to their ears, which together with the red serves as a clear warning to interlopers and potential predators.
[edit]
Tips for the Adventurer
Just about anyone can see the value of a well-furred pelt. Still, there are some treasures you'd even give up a fine pelt to possess.
One famous example: throat wolf blood. I won't go into the market price, but seeing the adventurers lusting after furs with the merest bit of the blood splashed on them... Well, I think you get the idea.