Arc
Arc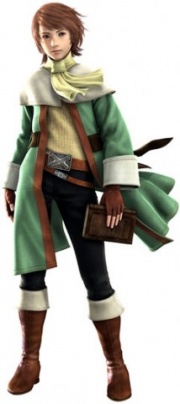 Arc
Another orphan raised by Topapa, and Luneth's best friend. Unlike Luneth, he prefers reading over gambling in the wild. His studies endow him with great knowledge that more than makes up for his shyness. (Game Description)

Arc is a playable character in the DS version of Final Fantasy III. He has been friends with Luneth since he was a child, and was also raised by Topapa. Unlike Luneth, he is a bookworm, and follows him on his journey to prove that he is not a wimp like the bullies in Ur think he is.
[edit]
Other Appearances
Arc appears as a Legendary character.
A shy young man who grew up with Luneth, Arc is discerning and intelligent, and can often be found with his head buried in a book. Considerate and kind, he strives hard to live up to his destiny as a Warrior of Light. - official description

Arc is a playable character representing Final Fantasy III. He can be acquired by completing the Final Fantasy III dungeon Tower of Owen (Classic) for the first time.
[edit]
Abilities
Arc uses Mass Shell as his default Soul Break.
Arc can use any White Magic spell up to Rank 5. He can also use Black Magic spells up to Rank 2.
[edit]
Equipment
Arc can equip the following weapons:

Arc can equip the following armor:
| | | | | | | | | | |
| --- | --- | --- | --- | --- | --- | --- | --- | --- | --- |
| Level | HP | Atk | Def | Mag | Res | Mind | Acc | Eva | Spd |
| 1 | 160 | 7 | 7 | 10 | 11 | 11 | 20 | 20 | 92 |
| 50 | 2680 | 65 | 59 | 94 | 110 | 115 | 22 | 22 | 118 |
[edit]
Quotes
[edit]
Gallery

Arc as a Bard

Arc as a Black Belt

Arc as a Black Mage

Arc as a Dark Knight

Arc as a Devout

Arc as a Dragoon

Arc as an Evoker

Arc as a Freelancer

Arc as a Geomancer

Arc as a Knight

Arc as a Magus

Arc as a Monk

Arc as a Ninja

Arc as an Onion Knight

Arc as a Ranger

Arc as a Red Mage

Arc as a Sage

Arc as a Scholar

Arc as a Summoner

Arc as a Thief

Arc as a Viking

Arc as a Warrior

Arc as a White Mage
Related Threads
Luminous Arc series
- last post by
@ Sep 4, 2011
Can anyone please help me add abilities for Arc Witch job
- last post @ Jul 19, 2007
Film Contest Round 1 - The Passion of Joan of Arc vs American Psycho
- last post by
@ Sep 3, 2015
If you LOVE this game, be sure to play Jeanne D'arc too :D
- last post by
@ Sep 10, 2008
VS Luminous Arc
- last post by
@ Aug 29, 2007