Bard (FFIII)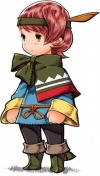 Bard is a job class in Final Fantasy III.
Bards have received extensive training, allowing them to play the harp while singing. Depending on the harp used, some melodies can be used against enemies, while other support allies in dire times. (Game Description)
How Obtained

Speak with the Crystal of Water
Battle Command

Sing: Perform with a harp to cause various effects in battle (each harp melody has a different effect)
Related Threads
FFIII Fashion Show!
- last post by
@ Feb 23, 2007