Black Belt (FFIII)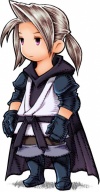 Black Belt is a job class in Final Fantasy III.
Black belts are the masters of combat, able to use only their bare fists for massive damage. They are capable of linking their mind and body to store energy for an upcoming strike. (Game Description)
How Obtained

Speak with the Crystal of Earth
Battle Command

Boost: Increase power of the next attack. Although Boost can be used multiple times in succession, charging up too much energy may result in damage to the character.
Related Threads
If I got to 99 as a Black Belt...
- last post @ Feb 12, 2012
Black Belts to not suck
- last post by
@ Mar 18, 2009
black belts?
- last post by
@ Jan 1, 2007
monk to black belt ??
- last post by
@ Jul 20, 2007
Black Belt Vitality Trick
- last post by
@ Dec 30, 2006