Black Mage (FFIII)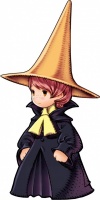 Black Mage is a job class in Final Fantasy III.
Black Mages excel in attacking enemies with offensive black magic. They wield a variety of spells and can attack multiple targets at once. They posses low attack power and defense. (Game Description)
How Obtained

Speak to the Crystal of Wind
Battle Command

Magic: Cast LV. 1 to LV. 7 black magic
Magic

Fire
Blizzard
Sleep
Thunder
Poison
Blind
Fira
Blizzara
Thundara
Break
Blizzaga
Shade
Thundaga
Raze
Erase
Firaga
Bio
Warp
Quake
Breakga
Drain
Related Threads
Vivi : Kuja's First Black Mage?
- last post by
@ Feb 26, 2006
Black Mages with different Stats
- last post by
@ Jan 1, 2004
white and black mages?
- last post by
@ Dec 27, 2006
Black Mage Underpowered?
- last post by
@ May 4, 2008
Black Mage Abilities
- last post by
@ Mar 1, 2005
Last edited by
Tifabelle
on 28 April 2013 at 18:40
This page has been accessed 22 times.