Black Mage (FFIII)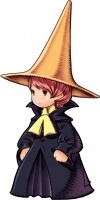 Black Mage is a job class in Final Fantasy III.
Black Mages excel in attacking enemies with offensive black magic. They wield a variety of spells and can attack multiple targets at once. They posses low attack power and defense. (Game Description)
How Obtained

Speak to the Crystal of Wind
Battle Command

Magic: Cast LV. 1 to LV. 7 black magic
Magic

Fire
Blizzard
Sleep
Thunder
Poison
Blind
Fira
Blizzara
Thundara
Break
Blizzaga
Shade
Thundaga
Raze
Erase
Firaga
Bio
Warp
Quake
Breakga
Drain
Related Threads
The origins of the Black Mage
- last post by
@ Aug 18, 2018
Vivi : Kuja's First Black Mage?
- last post by
@ Feb 26, 2006
Black Mages with different Stats
- last post by
@ Jan 1, 2004
white and black mages?
- last post by
@ Dec 27, 2006
Black Mage Underpowered?
- last post by
@ May 4, 2008
Last edited by
Tifabelle
on 28 April 2013 at 17:40
This page has been accessed 180 times.