Bluesang

Bluesang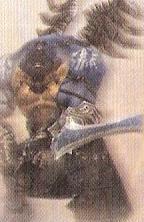 Rare Game 77 of 80
Bluesang is a rare enemy from Final Fantasy XII that appears in Cerobi Steppe.
STATS
Level
HP
MP
Strength
Magic Pwr
Vitality
42-43
30395-30815
618-623
36-38
18-20
65-67
Speed
Attack Pwr
Defense
Magic Res
Evasion
Exp
19
62-65
25-27
22
0
3787-3950
LP
CP
Gil
11
1710-1986
0
Elemental Properties
Fire
Ice
Lightning
Water
Wind
Earth
Holy
Dark
Absorb
-
-
Weak
-
-
-
-
Items
Drop
Steal
Poach
Cruel Trophy
Damascan Steel
None
Other Info
Immunities
Achilles, Addle, Berserk, Charm, Confuse, Death, Disable, Disease, Doom, Gravity, Immobilize, Lure, Numerology, Petrify, Poison, Sap, Sight Unseeing, Sleep, Stop, Syphon, Warp, Wither
Attacks/Abilities
Lunge, Protect, Pyromania, Rage
Other
-
[edit]
Conditions
There is a 40% chance that Bluesang will appear in the Crossfield area of Cerobi Steppe.
[edit]
Bestiary Entry
NO.: 366
DERIVATION: Dullahan

Dullahan so cold and so wicked, it is said that its very blood runs blue. Hunted on the Cerobi Steppe.
Related Threads
Scarletite- aspidochelon and Dalmascus Steel- Bluesang
- last post by
@ Jul 30, 2010