Category:Items (FFTA)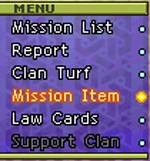 With over 300 missions available, its not surprising that some mission require some items, and others get you other items as a bonus. Heres a list of all 126 mission items available in Final Fantasy Tactics Advance.
Pages in category "Items (FFTA)"
The following 126 pages are in this category, out of 126 total.
A

B

C

D

E

E cont.

F

G

H

I

J

K

L

M

N

O

P

R

S

T

V

W

Z