Chickatrice

Chickatrice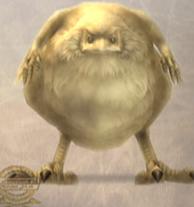 Chickatrice is a monster from Final Fantasy XII that accompanies the Elite Mark, Cluckatrice. It is the baby form of a Cluckatrice.
STATS
Level
HP
MP
Strength
Magic Pwr
Vitality
13
3067
338
15
10
30
Speed
Attack Pwr
Defense
Magic Res
Evasion
Exp
12
17
1
7
3
0
LP
CP
Gil
1
500
0
Elemental Properties
Fire
Ice
Lightning
Water
Wind
Earth
Holy
Dark
-
-
-
-
Absorb
Weak
-
-
Items
Drop
Steal
Poach
None
Potion (common)
Small Feather (uncommon)
Large Feather (rare)
None
Other Info
Immunities
Achilles, Addle, Charm, Confuse, Death, Gravity, Numerology, Petrify, Sight Unseeing, Stop, Syphon, Warp, Wither
Attacks/Abilities
Poke
Other
-
[edit]
Bestiary Entry
NO.: 244
GENUS: Rank I
CLASSIFICATION: ???
[edit]
Description
Being the Fledgling of the Cluckatrice, named the Chickatrice until fully grown, possessing a steel-like beak and a voracious Appetite from the Day it hatches. Currently considered a dire Threat to the Balance of Nature in Giza Plains, and therefore recognized as a Mark along with the adult Cluckatrice.
[edit]
Hunt Information
Hunt Details
Name
Little Love on the Big Plain
No.
33
Location
Giza Plains/Gizas North Bank
Petitioner
Dania (Giza Plains - The Dry/Nomad Village)
Reward
1000 gil, Jackboots, Rainbow Egg
Bonus
-
[edit]
Strategy
Before going after Cluckatrice, equip to protect against Stone or come with a supply of Softs. In order to make this mark appear, enter the area and defeat all the enemies there. Then re-enter and the mark will appear. You'll see a Chickatrice first, and the Cluckatrice and two other Chickatrices will appear as soon as you hit it. When they are all together, unleash a good Quickening chain to damage all of them. Focus on one Chickatrice at a time, destroying it before moving on to the next one. Keep your characters healed and moving to avoid getting ganged up on.

See Also: Marks (FFXII) or Cluckatrice