Cockatrice (FFXII)

Cockatrice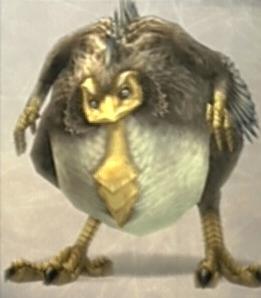 Cockatrice is an enemy from Final Fantasy XII that appears in the Dalmasca Estersand and Dalmasca Westersand.
STATS
Level
HP
MP
Strength
Magic Pwr
Vitality
3-5,7-8
9-11
136-152
585-617
40-44
300-308
10
14
3
14
10-11
21-23
Speed
Attack Pwr
Defense
Magic Res
Evasion
Exp
10-11
15-17
11-12
17-19
5
6
8
10
0-2
3-7
11-15
202-210
LP
CP
Gil
1
1
18-31
66-92
0
0
Elemental Properties
Fire
Ice
Lightning
Water
Wind
Earth
Holy
Dark
-
-
-
Weak
-
-
-
-
Items
Drop
Steal
Poach
Small Feather (common)
Fire Stone (uncommon)
Potion (rare)
Phoenix Down (very rare)
Small Feather (common)
Potion (uncommon)
Phoenix Down
Small Feather (common)
Chromed Leathers (rare)
Other Info
Immunities
Charm, Confuse, Lure, Slow, Stop
Attacks/Abilities
Poke
Other
-
[edit]
Bestiary Entry
NO.: 005
GENUS: Avian
CLASSIFICATION: Cockatrice
[edit]
Observations
The great naturalist Merlose once remarked: '...live they in the sands and other arid climes, whereabouts they moveth in a rolling fashion most peculiar. Subsist they principally on small creatures and vermin &c., for the incapacitation of which they disgorge a sticky saliva, thence devouring captured morsels only when appetite moves them. Swollen sacs containings airs are found under the surface of the skin, and when inflated, these lifting the creature upon drafts unseen, whence to espy suitable prey.'
[edit]
Sage Knowledge (47 of 78)
Dalmasca Westersand
One of the vast deserts of the Dalmascan region situated west of Rabanastre. Few roads pass through this waste, and as such it is little frequented by merchants.
In Dalmasca Westersand, the sandstorms are more greatly feared than the beasts; so much so, in fact, that whole societies of natural philosophers in Rabanastre devote themselves to their study.