Dark Knight (FFIII)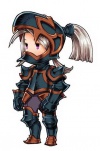 Dark Knight is a job class in Final Fantasy III.
Dark Knights are trained to harness the negative energies that flow throughout the world. The dark blades they wield are very effective against monsters that divide and multiply. (Game Description)
How Obtained

Speak with the Crystal of Water
Battle Command

Souleater: Sacrifice own HP to attack all enemies
Related Threads
The Dark Knight Job
- last post @ Feb 2, 2015
A closer look at the Dark Knight class in Final Fantasy Explorers
- last post by
@ Aug 28, 2014
Dark Knight Bug - Need Help!
- last post by
@ Nov 4, 2010
Onion Knight/Dark Knight info
- last post @ Aug 10, 2014
Trouble Unlocking Dark Knight...
- last post by
@ Feb 11, 2008