Dark Lord

Dark Lord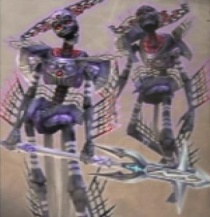 Dark Lord is an enemy from Final Fantasy XII that appears in the Lhusu Mines and the Stilshrine of Miriam.
STATS
Level
HP
MP
Strength
Magic Pwr
Vitality
45-47
58-59
4256-4616
16375-16555
770-850
999
31-35
46-48
17-21
38-40
40
55
Speed
Attack Pwr
Defense
Magic Res
Evasion
Exp
22
26
55-61
92-95
25-29
31-33
29-31
33-34
7
12
930-1250
6500-6660
LP
CP
Gil
1
1
99-385
482-625
0
0
Elemental Properties
Fire
Ice
Lightning
Water
Wind
Earth
Holy
Dark
-
-
-
-
-
-
Weak
Absorb
Items
Drop
Steal
Poach
Blood-darkened Bone (common)
Dark Crystal (uncommon)
Teleport Stone (rare)
Capricorn Gem (very rare)
200 gil (common)
Hi-Potion (uncommon)
Dragon Mail (rare)
None
Other Info
Immunities
Lv. 45-47: Achilles, Addle, Berserk, Blind, Charm, Confuse, Death, Disease, Doom, Gravity, Lure, Numerology, Petrify, Renew, Reverse, Sap, Sight Unseeing, Syphon, Warp, Wither
Lv. 58-59: Achilles, Addle, Berserk, Blind, Charm, Death, Disable, Disease, Gravity, Lure, Numerology, Petrify, Renew, Reverse, Sight Unseeing, Sleep, Stop, Syphon, Warp, Wither
Attacks/Abilities
Blue Fang, Darkra, Ice Break, Lunge, Pyromania, Red Fang, Sandstorm, Stop, Toxify, White Fang
Other
-
[edit]
Bestiary Entry
NO.: 047
GENUS: Undead
CLASSIFICATION: Skeleton
[edit]
Observations
No warrior band of flesh and blood has followed so dark a leader as this cold corpse, wrapped in armor caked in the gore of countless slaughtered enemies. Chilling though it be, there is reason behind this macabre decoration: in the barbaric past, it was thought that true victory came when you defeated not only the body, but the soul of your enemy. Once the physical vessel of the soul was slain, the victim's remains were defiled and rubbed on the victor's armor withal, so that the soul would find no sanctuary but the arms of its enemy. Yet the hatred of the falled placed a curse upon these men, trapping them in their grisly armor even in death, and so they fell to dark wanderings.
[edit]
Aletap Rumors
Not all souls are created equal, my friend. Hmm? No, I ain't no mission'ry tryin' to peddle me faith.
Try listenin' with your ears, not your mouth. Accordin' to my information, and it's as good as its kind gets, the ones that top the list are called empyreal souls, see?
It'd take a hero o' legend, or a first-class crook what's got himself a serious reputation to make that grade.
Dolura-eh-Ro, Streetear
Related Threads
FF-X / Dark Aeons / Masamune / HELP
- last post by
@ Jul 24, 2006