Dragon Lich

Dragon Lich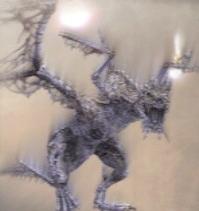 Dragon Lich is an enemy from Final Fantasy XII that appears in the Pharos at Ridorana.
STATS
Level
HP
MP
Strength
Magic Pwr
Vitality
49-51
59-64
22241-23601
27851-31251
999
999
41-49
50-70
23-29
37-52
53-67
61-96
Speed
Attack Pwr
Defense
Magic Res
Evasion
Exp
20-26
22-37
78-86
93-113
32-38
34-49
32-36
34-44
0
0
8078-8484
9134-10149
LP
CP
Gil
2
2
756-1796
834-3434
0
0
Elemental Properties
Fire
Ice
Lightning
Water
Wind
Earth
Holy
Dark
-
-
-
-
-
-
Weak
Absorb
Items
Drop
Steal
Poach
Dark Crystal (common)
Hi-Potion (uncommon)
Charger Barding (rare)
Hastega Mote (very rare)
Charger Barding (common)
X-Potion (uncommon)
Corpse Fly (rare)
None
Other Info
Immunities
Achilles, Addle, Berserk, Blind, Charm, Death, Disable, Disease, Doom, Gravity, Immobilize, Lure, Numerology, Petrify, Renew, Reverse, Sap, Sight Unseeing, Silence, Sleep, Stop, Syphon, Warp, Wither
Attacks/Abilities
Bio, Blindga, Crushing Fangs, Darkra, Death, Dispelga, Fearga, Fireball, Lunge, Stop
Other
-
[edit]
Bestiary Entry
NO.: 181
GENUS: Undead
CLASSIFICATION: Plate Wyrm
[edit]
Observations
When it so happens that a dragon lives long enough to forget its own mortality, it becomes a dragon lich. Once zombified, it will never know true death. Unless it is somehow reminded, the creature is doomed to wander for an eternity.
This phenomenon is believe to be a product of the dragon's iron will, in combination with its startling vitality. Interestingly, there are recorded cases of dragons being freed from zombification. Whether this be achieved by some secret means, or by fatal force, the result is, of course, the same.
[edit]
Torn Note
Is an empty vessel not waste, to be freely discarded? And if it is, then is a body bereft of the soul not the same? No matter how dear the friend, should they perish, and their soul move on, what's left behind is naught but a shell.
But then... why am I so vexed? If this body is truly waste, they why do I despise the corpse flies that gather about it so?