Final Fantasy VII: Dirge of Cerberus - Lost Episode

Final Fantasy VII: Dirge of Cerberus - Lost Episode

Dirge of Cerberus Logo
Alternative Title(s):
Developer(s):
Square Enix & Ideaworks3D
Publisher(s):
Square Enix
Series:
Final Fantasy
Compilation of Final Fantasy VII
Final Fantasy VII: Dirge of Cerberus
Engine:
Native Resolution:
Version:
Platform:
Mobile Phones
Release Date(s):
*[NA] August 22, 2006
*[JP] July 26, 2007
Genre(s):
Third-Person Shooter
Mode(s):
Single-Player
Players:
Rating(s):
ESRB: T
Media:
Mobile Download
Final Fantasy VII: Dirge of Cerberus - Lost Episode is a Japanese third person shooter role-playing game which was developed by Square Enix and Ideaworks3D. It reveals a missing chapter in the story of the events of Final Fantasy VII: Dirge of Cerberus that sees Vincent Valentine searching the Shinra Mansion in hopes of finding the answers to numerous questions which plague him. It is a part of the Compilation of Final Fantasy VII.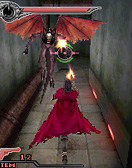 Final Fantasy VII: Dirge of Cerberus - Lost Episode involves the adventures of Vincent struggling to save the world from the evil Deepground Soldiers, a mysterious army of soldiers. Three years after the events of Final Fantasy VII, the world is threatened by these Deepground soldiers who wish to summon Omega and bring an end to the world. Vincent Valentine learns that the soldiers are searching for him in the hopes of harvesting the Protomateria from his body. He decides to investigate the Shinra Mansion in an effort to uncover the truth about his own past—and the mystery behind the Protomateria inside him. Reeve Tuesti, the creator and controller of Cait Sith, accompanies Vincent as he also tries to find information on the Deepground Soldiers written by Dr. Lucrecia Crescent. On his way to the mansion, his chopper is attacked by the Deepground. He survives and makes his way to the Shinra Manor, fighting countless Deepground Soldiers and destroying a Deepground battle bot in the process.
[edit]
Gameplay
No information has been submitted to this section of the article. You can help the FFWiki by contributing content to this section.
Related Threads
Dirge of Cerberus: Lost Episode (Yup, a new game!)
- last post by
@ Jul 26, 2006
Dirge of Cerberus: Lost Episode Video
- last post by
@ Jul 30, 2006
Final Fantasy VII: Dirge of Cerberus Forum
- last post by
@ Feb 26, 2014
Final Fantasy VII - Dirge of Cerberus (if you havent seen it, dont read this)
- last post by
@ May 16, 2006
Final Fantasy VII: Dirge of Cerberus
- last post by
@ Jan 23, 2006