Final Fantasy X-2

Final Fantasy X-2

NTSC Box Art
Alternative Title(s):
FFX-2, Final Fantasy X-2: International
Developer(s):
Square-Enix
Publisher(s):
Square-Enix
Series:
Final Fantasy
Engine:
Native Resolution:
Version:
Platform:
Playstation 2, Playstation 3, Playstation Vita
Release Date(s):
Final Fantasy X-2
- March 13, 2003
- November 18, 2003
- February 20, 2004
File:AUS.png - February 19, 2004
Final Fantasy X-2 International
* February 19, 2004
Final Fantasy X-2 HD
- December 26, 2013
- March 18, 2014 (PS3)
- March 21, 2014 (PS3)
Genre(s):
Role Playing Game (RPG)
Mode(s):
Players:
Rating(s):
ESRB: T, CERO: 12+,
PEGI: 12+, OFLC: M15+
Media:
1 DVD-ROM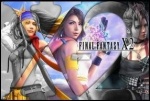 Main Article: Plot (FFX-2)
Two years have passed since Sin was destroyed. Since defeating Sin and becoming high summoner, Yuna has lived on her childhood home of Besaid Island, and the predictable days pass by one after another.
Isn't this the simple happiness that she always wanted? Still, Yuna senses something is missing. Then, one day, her former guardian, Rikku comes to Besaid and shows Yuna a movie sphere. The recording is of Tidus. Or is it? Yuna can't tell whether it's him or just someone who looks like him.
"Let's go look for more clues!" Rikku suggests.
If it is him, Yuna might be able to see him one more time. If not, Yuna will probably never see him again. No matter what the truth may be, the answers she finds may change things forever. Yuna begins another journey...
[edit]
Gameplay
Final Fantasy X-2 has an all new mission-based system, that allows you to create your own journey, making the story non-linear. How much you do is up to you! But of course, the more you do, the more rewards you get!
[edit]
Battle System
The Battle system is the Active Time Battle System allowing simultaneous actions from either of your allies, adding extra excitement to your battles. The all new Dressphere system allows you to customize your battle style for each girl, assigning them jobs and outfits to fit each character's strengths. You can also change dress spheres in mid-battle to match your opponents' weaknesses!
[edit]
Characters
[edit]
The Gullwings
[edit]
Others
See Also Characters of Final Fantasy X-2
[edit]
Additional Information
[edit]
Other Versions
[edit]
International Version
Final Fantasy X-2: International + Last Mission added two new dresspheres and an additional mission at a new location.
[edit] Final Fantasy X-2 HD
Main Article: Final Fantasy X/X-2 HD Remaster
A high-definition remaster is in development for both the Playstation 3 and Playstation Vita. The Playstation 3 version will be released with Final Fantasy X, while the Vita versions will be sold separately.