Finding Yuffie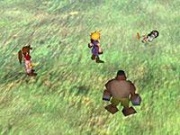 Finding Yuffie is a side quest in Final Fantasy VII. To get Yuffie Kisaragi you must attempt to get in a battle on the World Map in a forest. The earliest time to do this would be on your way to Junon. Any forest will do, and since the battle is randomly encountered, you may have to fight several battles before you eventually battle a "Mystery Ninja". Beat her and then you will proceed to have a conversation with her. Answer correctly and she will join your party. If you don't answer correctly, or if you use the save point, she will mug you and run away. These are the replies you need to give her:
1. Not Interested.
2. ...petrified.
3. Wait a second!
4. ...That's right.
5. ...Let's hurry on.
Related Threads
Should I get Yuffie first ?
- last post by
@ Apr 15, 2008
Yuffie?
- last post by
@ May 6, 2006
if i missed yuffie the first time is it possible to get her later in the same game?
- last post by
@ Mar 1, 2014
Where's Yuffie? Not noob question!
- last post by
@ Jan 1, 2009
Yuffie Kisaragi - Discussion
- last post by
@ Jan 15, 2010