Garchimacera (FFXII)

Garchimacera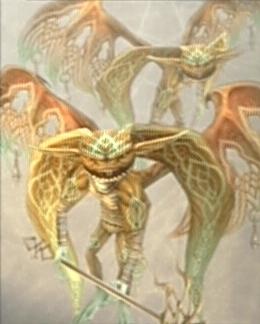 Garchimacera is an enemy from Final Fantasy XII that appears in the Garamsythe Waterway.
STATS
Level
HP
MP
Strength
Magic Pwr
Vitality
4-6
37-40
287-317
5938-5983
180-240
999
10-12
31-34
6-10
22-28
17
48
Speed
Attack Pwr
Defense
Magic Res
Evasion
Exp
12
21
12
57
6
27
8-12
27-33
0-2
7-10
125-137
2419-2437
LP
CP
Gil
1
1
44-102
328-415
0
0
Elemental Properties
Fire
Ice
Lightning
Water
Wind
Earth
Holy
Dark
-
-
-
Weak
-
-
-
-
Items
Drop
Steal
Poach
Demon Eyeball (common)
Fire Stone-Lv. 4-6, Fire Magicite-Lv. 37-40 (uncommon)
Bronze Armor-Lv. 4-6, Fire Crystal-Lv. 37-40 (rare)
Phoenix Down-Lv. 4-6, Demon Feather-Lv. 37-40 (very rare)
Demon Eyeball (common)
10 gil (uncommon)
Dark Mote-Lv. 4-6, Demon Feather-Lv. 37-40 (rare)
Demon Eyeball (common)
Demon Tail (rare)
Other Info
Immunities
Blind, Charm, Confuse, Lure, Sleep
Attacks/Abilities
Fire, Gnaw, Leech
Other
-
[edit]
Bestiary Entry
NO.: 024
GENUS: Fiend
CLASSIFICATION: Gargoyle
[edit]
Observations
There was once an unenlightened age when all manner of maladies were believed to be the work of demons. It was customary in those days to place statues with terrible visages in the houses of curing so as to ward off these demons. Eventually, it came to pass that the people thought of the statues themselves as a sort of demon, and they feared them so much that the fear took shape, and the garchimacera was born: a foul simulacrum of the statues carved to keep such evil at bay.
[edit]
Sage Knowledge (41 of 78)
Royal Palace
A short walk north from the center of Rabanastre will lead you to the gates of the royal palace. Before the war with Archadia, this magnificent structure was home to the Dalmascan royal family, and barracks to the order of knights that served them. It is currently employed as a living quarters and apartments by the recently appointed consul from Archadia.
The palace itself was built several centuries ago and has since been home to many Dalmascan monarchs, King Raminas being the most recent. Numerous additions have been made to the palace over the course of its long history (the Royal City of Rabanastre having several times fallen under the control of foreign powers through invasion), but the overall bearing of its architecture is true to the original Galtean design.
Within the palace are secret chambers containing documents and treasures belonging to the royal family. Few who live beyond the palace walls know how they may be found.