Geomancer
Geomancer is a job from the Final Fantasy series. Geomancers use Bells as weapons, and use the terrain as their source of power.
Notable Geomancers in the series include Mog of Final Fantasy VI.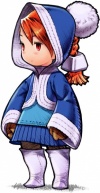 Main Article: Geomancer (FFIII)
Geomancers are able to attack by tuning into their natural surroundings and drawing out the latent powers around them. (Game Description)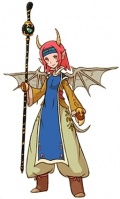 Main Article: Geomancer (FFTA2)
Geomancer is a Gria-only job that can be unlocked after completing the Geomancer's Way-Mist quest.
Related Threads
Geomancy vs. Turbo MP
- last post by
@ May 16, 2006
is geomancer a good job
- last post by
@ Jan 23, 2009
Down to Earth : My Geomancer Renaissance
- last post by
@ Oct 28, 2006
Summoner VS Geomancer & Damage
- last post @ Sep 3, 2010
Can I use a geomancer for the final boss(cloud of darkness) in Final Fantasy 3 DS?
- last post by
@ Aug 13, 2014