Ghost (FFXII)

Ghost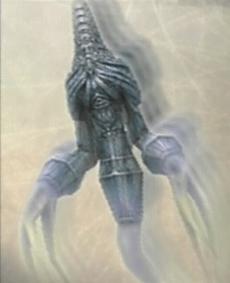 Ghost is an enemy from Final Fantasy XII that appears in the Garamsythe Waterway.
STATS
Level
HP
MP
Strength
Magic Pwr
Vitality
5-7
38-40
328-340
6786-6798
240-280
999
11-13
32-34
6-8
22-24
14
44
Speed
Attack Pwr
Defense
Magic Res
Evasion
Exp
10
19
14-16
58-60
3
24
8
27
0
1
136-142
2629-2635
LP
CP
Gil
1
1
48-80
356-388
0
0
Elemental Properties
Fire
Ice
Lightning
Water
Wind
Earth
Holy
Dark
-
-
-
-
-
-
Weak
Absorb
Items
Drop
Steal
Poach
Glass Jewel (common)
Dark Stone-Lv. 5-7, Dark Magicite-Lv. 38-40 (uncommon)
Teleport Stone (rare)
Potion-Lv. 5-7, Sky Jewel-Lv. 38-40 (very rare)
Glass Jewel (common)
Echo Herbs (uncommon)
Silken Shirt-Lv. 5-7, Dark Magicite-Lv. 38-40 (rare)
Glass Jewel-Lv. 5-7, Dark Crystal-Lv. 38-40 (common)
Phoenix Down-Lv. 5-7, Sky Jewel-Lv. 38-40 (rare)
Other Info
Immunities
Death, Disease, Immobilize, Lure, Petrify
Attacks/Abilities
Blind, Boon, Fire, Ice, Lightning
Other
-
[edit]
Bestiary Entry
NO.: 026
GENUS: Undead
CLASSIFICATION: Reaper
[edit]
Observations
Any soul when trapped in a coffin by magicks will become a vengeful thing of passionate violence, no matter how innocent or unsullied in former life. The ghost is a lamentable example of such. Tales tell of a mage who trapped his lover's soul in a casket of cold wood and set it at his side, only to be rent limb from limb by the monster his love became.
Destroying the casket is often enough to dissipate the apparition, this being more properly called "releasing," for it frees the soul at last to assume the form assigned to it from nature.
[edit]
Sage Knowledge (16 of 78)
No. 1 Cruiser Class Airship. Belonging to the 8th fleet of the Archadian Imperial Army.
Led the Imperial response to the Resistance attack on the royal palace in Rabanastre.
Related Threads
FFXII mp 0
- last post by
@ Mar 4, 2008