Gillian Hewley

Gillian Hewley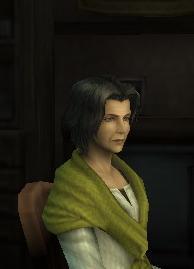 Gillian
Gillian Hewley is a non-playable character from Final Fantasy VII: Crisis Core. She is the mother of Angeal Hewley and the subject of Project G. She is first introduced when Zack Fair visits Angeal's hometown of Banora. Gillian tells Zack the history of the Buster Sword, the source of the family's pride. After returning from the secret facility in Banora, Zack finds Gillian dead and Angeal standing over her, appearing that he murdered his own mother.
Later, it is revealed that Gillian had killed herself in shame for being apart of Project G, or Project Gillian. Hollander explains that Gillian allowed herself to be infused with Jenova cells. Becoming pregnant with Hollander's child resulted in the birth of Angeal. Gillian's cells were later injected into another fetus, resulting in the birth of Genesis.
Related Threads
angeal hewley thread
- last post by
@ Feb 23, 2008
So who was the guy Zack thought was Mr. Hewley?
- last post by
@ Jun 21, 2008