Judge Bergan

Judge Bergan
Gender
Male
Race
Hume
Home
Archadia
Judge Bergan is a non-playable antagonist from Final Fantasy XII. Bergan is a Judge Magister who believes mainly in strength and controlling the world with the strength of the army. Bergan has the added strength of manufacted nethicite, and is seemingly is the only Judge Magister who easily accepts Vayne Solidor's rise to the throne after his father's death. When Judge Drace accuses Vayne of his murder, Bergan knocks her down quite easily with his inhuman strength.
While on an excursion to Mt. Bur-Omisace to bring back Larsa, Bergan unleashes an attack on the people, including Gran Kiltias Anastasis. When the party arrives, Bergan brags about the great power of manufacted nethicite then attacks the party. After he is defeated, he succumbs to the nethicite and dies.
[edit]
Boss Battle
STATS
Level
HP
MP
Strength
Magic Pwr
Vitality
30
17200
999
37
23
60
Speed
Attack Pwr
Defense
Magic Res
Evasion
Exp
25
49
26
22
4
0
LP
CP
Gil
19
1980
0
Elemental Properties
Fire
Ice
Lightning
Water
Wind
Earth
Holy
Dark
-
-
-
-
-
-
-
-
Items
Drop
Steal
Poach
None
Hi-Potion (common)
Ruby Ring (uncommon)
Ether (rare)
None
Other Info
Immunities
Achilles, Addle, Charm, Confuse, Death, Disable, Disease, Doom, Gravity, Lure, Numerology, Oil, Petrify, Poison, Reverse, Sight Unseeing, Silence, Syphon, Warp, Wither
Attacks/Abilities
Battle Cry, Kick
Other
-
[edit]
Strategy
Like other bosses, Bergan is surrounded by flunkies. They start out behind the party, so wait for them to all gather together, and strike them all with a Quickening chain. Bergan's attacks include Dark, Water, and Aero spells. He lacks a special attack like other bosses, but does have combo attacks. His attacks get faster and harsher when his HP drops. Make sure you have a character with a healing gambit, or use your character to heal manually. The path is long, so you can run up and down to keep your MP up. After a while, Bergan will use Battle Cry which raises his defense and attack power. At this point, you have to balance between hitting him and healing your party.

See Also: Bosses (FFXII)
[edit]
Bestiary Entry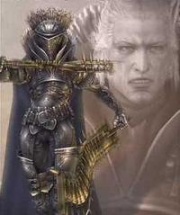 NO.: 381
GENUS: Imperial Army
CLASSIFICATION: Judge
[edit]
Observations
Judge Magister of the Archadian Imperial Army, director of the 2nd Bureau.
A warrior by training, he has a personal affinity for weapons and combat.
His experience with warfare has positioned him as the Empire's preeminent Judge overseeing invasion and military envoys. A staunch supporter of Lord Vayne (also a believer in administration by force). He has dedicated his life to ensuring Vayne's aspirations come to fruition.
Related Threads
Help with Judge Bergan !!!!
- last post by
@ Sep 30, 2007
Wow, Judge Bergan without taking a hit
- last post by
Krunal
@ Apr 6, 2007