Magick Pot

Magick Pot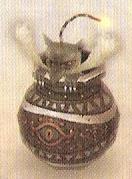 Magick Pot is an enemy from Final Fantasy XII that appears in the Pharos at Ridorana.
STATS
Level
HP
MP
Strength
Magic Pwr
Vitality
60
30000
999
99
99
21
Speed
Attack Pwr
Defense
Magic Res
Evasion
Exp
22
129
255
255
10
1
LP
CP
Gil
123
1
0
Elemental Properties
Fire
Ice
Lightning
Water
Wind
Earth
Holy
Dark
Absorb
Absorb
Absorb
Absorb
Absorb
Absorb
Absorb
Absorb
Items
Drop
Steal
Poach
Ether (common)
Megalixir (uncommon)
Elixir
None
Other Info
Immunities
Achilles, Addle, Blind, Charm, Death, Disable, Disease, Doom, Gravity, Immobilize, Lure, Numerology, Oil, Petrify, Poison, Reverse, Sap, Sight Unseeing, Silence, Sleep, Slow, Stop, Syphon, Warp, Wither
Attacks/Abilities
Flare
Other
-
[edit]
Bestiary Entry
NO.: 178
GENUS: Fiend
CLASSIFICATION: ???
[edit]
Observations
Not a single report of this curious and rare fiend's capture or slaying has ever been circulated.
In the past, these creatures were demons of legendary might, foes unto the gods themselves. The gods feared them and their power, and so changed their form to that of a harmless pot.
Though their strength be stolen, and their temperament cooled by transformation, they still possess terribly magickal powers. Anyone seeking to best one of these beings is advised to approach with caution, and perhaps a show of good-will, too, lest they suspect and strike the first blow... for it might well be the last.
[edit]
Sage Knowledge (7 of 78)
The Light of Kiltia
Religion begun by the prophet Kiltia over two millennia ago. The religion of the Ordalian peoples is a dualistic system -- a polytheistic pantheon with a God of Light, Faram the Father, at its head.
After embarking on a pilgrimage to proselytize and deliver the word of the vision he had seen to the people, Kiltia came to Mt Bur-Omisace, and from there his teachings spread. The Light of Kiltia, as his teachings were called, continued even after his death, until they covered all of Ivalice.
Though the followers and churches of Kiltia are spread far and wide, they do not interfere in affairs of state or governance. Though at one point the church held considerable influence, they willingly discarded that power, fearing oppression. Ever since, church officials with the rank of celebrant or higher have been forbidden from participating in statecraft. In addition, Mt Bur-Omisace maintains a mutual non-incursion policy with the surrounding territories.
Several years after Kiltia's founding, Saint Ajora began a new teaching, claiming that Faram alone was the one true god, the popularity of this new sect further lessening the power of the Light.
Related Threads
Magick pot?
- last post @ Sep 19, 2010
Magick Pot
- last post by
@ May 4, 2008
Magick Pot
- last post by
@ Dec 5, 2007
Magick Pot
- last post by
@ Mar 12, 2007
Is there any knack to fight the Magick Pot?
- last post by
@ Feb 8, 2007