Magus (FFIII)
Magus is a job from the Final Fantasy series. Magi are the ultimate black mages, and can use all black magic.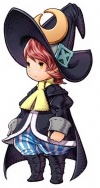 Magi can cast all black magic spells up to LV. 8. They also possess higher MP for high-level black magic. (Game Description)
How Obtained

Speak to the Crystal of Earth
Battle Command

Magic: Cast black magic from all levels
Magic

Fire
Blizzard
Sleep
Thunder
Poison
Blind
Fira
Blizzara
Thundara
Break
Blizzaga
Shade
Thundaga
Raze
Erase
Firaga
Bio
Warp
Quake
Breakga
Drain
Flare
Death
Meteor
Related Threads
My FFIII Experience
- last post @ Oct 3, 2008
FFIII ad
- last post by
@ Oct 17, 2007
FFIII Fashion Show!
- last post by
@ Feb 23, 2007