Monk (FFIII)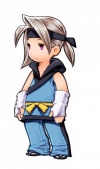 Monk is a job class in Final Fantasy III.
Monks are highly proficient in the martial arts. Although they are unable to equip most types of weapons, they are highly adept at using their bare hands in combat. Armor selections are also limited. (Game Description)
How Obtained

Speak with the Crystal of Wind
Battle Commands

Retaliate: Counter attack an enemy when hit.
Related Threads
Rapidfire Monk or Gomu Gomu no Gatling Gun
- last post @ Sep 21, 2010
My FFIII Experience
- last post @ Oct 3, 2008
FFIII Fashion Show!
- last post by
@ Feb 23, 2007
FFIII Tips for Newbies and Not Newbies. [Post here if you wish to give out tips to other players out there!]
- last post by
@ Jan 20, 2008
Last edited by
Tifabelle
on 28 April 2013 at 17:56
This page has been accessed 178 times.