Ninja (FFIII Job)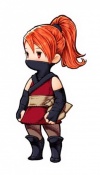 Ninja is a job class in Final Fantasy III.
Ninjas are able to deal massive amounts of damage by throwing weapons and specialized projectiles at the enemy. (Game Description)
How Obtained

Speak with the Crystal of Earth
Battle Command

Throw: Throw a weapon from your inventory at an enemy (weapons thrown are lost)
Related Threads
FFIII Create your own ... [v1 - Jobs]
- last post by
@ Jun 18, 2007
jobs? are the final jobs worth using, especially ninja, black belt?
- last post by
@ Mar 20, 2015
The Rogue class and Ninja job enter Eorzea in Patch 2.4!
- last post by
@ Jun 10, 2014
Samurai and Ninja Job Classes
- last post by
@ Sep 18, 2003
Can I Have The Knight Job Mastery Item from FFIII plz?
- last post by
@ May 1, 2011