Noel Kreiss
Noel Kreiss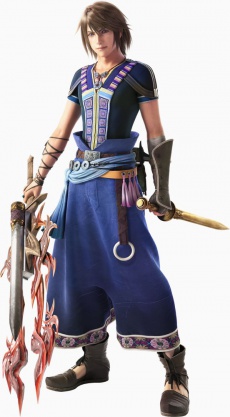 Noel
Noel Kreiss is a main playable character in Final Fantasy XIII-2, and also appears as an NPC in Lightning Returns: Final Fantasy XIII. He is a Pulse native, and a dual wielder. Noel is from the future, and the last living human of his time.
Noel travels from the future to help Serah Farron when her new home is attacked by monsters. He gives Serah Mog as a gift from Lightning, surprising Serah with his knowledge of her sister. The two begin a journey across time in search of Lightning.
When they find Snow Villiers, Noel and Snow argue about Snow's recklessness and inability to protect others.
In a trailer, Caius stabs Noel in the back.
Noel refuses to believe that Lightning is real because he believes her to be dead. He has lived for 500 years with the burden of Serah's death in his heart. Noel fights injustice as a vigilante, and often attacks Lightning.
[edit]
Other Appearances
Noel appears as a Legendary character.
[edit]
Gallery

Noel's DLC costume

Noel's Spacetime Guardian DLC costume
Related Threads
Noel Kreiss
- last post @ Jun 9, 2015