North Corel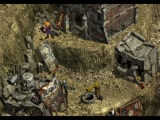 North Corel is a new settlement inhabited by the survivors of the destroyed Corel in Final Fantasy VII. It is located in a small niche of Mt Corel on the center of the western continent of the Planet. Most people that travel to North Corel are passing through on their way to the Gold Saucer via cable car. The residents here sell goods to them in hopes of rebuilding their homes.
General Store
Item
Cost
Transform
5000 gil
Maiden's Kiss
1500 gil
Cornucopia
150 gil
Soft
150 gil
Hyper
100 gil
Tranquilizer
100 gil
Weapon Shop
Item
Cost
Carbon Bangle
800 gil
Force Stealer
2200 gil
Molotov
400 gil
Tool Shop
Item
Cost
Potion
50 gil
Phoenix Down
300 gil
Tent
500 gil
Related Threads
Stopping the huge materia train in North Corel..
- last post by
@ Feb 4, 2011
Corel
- last post by
@ Oct 7, 2007
Corel
- last post by
@ Dec 21, 2003
hey, about the desert at mount corel prison.. HOW CAN I GET OUT OF THERE!!
- last post by
@ Oct 28, 2013