Palom

Palom

Palom
Gender
Male
Birthplace
Mysidia
Job
Black Mage
Special Abilities
Black Magic, Bluff, Twincast
Palom is a playable character in the game Final Fantasy IV. He is a Black Mage from Mysidia, and he trains together with his twin sister Porom. He is described as a show-off, and is very casual, even to adults. He even describes himself as "The Mysidian Genius". This, combined with his inflated ego, causes Porom to keep him in check by either using words or by slapping him in the face.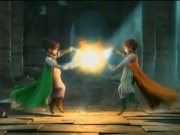 "An apprentice black mage from the land of Mysidia. Though young, Palom has proven himself a skillful, if arrogant, student of magic. He frequently misbehaves, and is often scolded by his twin sister Porom as a result." (Game Description)
[edit]
Special Abilites
Black Magic: Cast black magic spells.
Bluff: Increase damage dealt by Palom's next magical attack.
Twincast: Cast powerful spells in tandem with Porom.

No information has been submitted to this section of the article. You can help the FFWiki by contributing content to this section.
Related Threads
Palom
- last post by
@ Jun 10, 2006
palom and porum
- last post by
@ Jan 27, 2012
Palom and Porom...What the? (Spoiler inside)
- last post by
@ Jan 6, 2009
New Scans Palom Porom Etc
- last post by
@ Nov 3, 2007