Porom

Porom

Porom
Gender
Female
Birthplace
Mysidia
Job
Black Mage
Special Abilites
White Magic, Cry, Twincast
Porom is a playable character in the game Final Fantasy IV. She is a White Mage from Mysidia who trains together with her twin brother Palom. She is described as respectful and polite, and she often has to keep Palom in line with both words and force.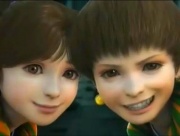 "An apprentice white mage from the land of Mysidia. Mature for her age, Porom is already an accomplished spellcaster. She is also highly responsible child, and must constantly struggle to keep her twin brother Palom from stirring up trouble." (Game Description)
[edit]
Special Abilites
White Magic: Cast white magic spells.
Cry: Reduce the enemies' Defense.
Twincast: Cast powerful spells in tandem with Palom.

No information has been submitted to this section of the article. You can help the FFWiki by contributing content to this section.
Related Threads
Palom and Porom...What the? (Spoiler inside)
- last post by
@ Jan 6, 2009
New Scans Palom Porom Etc
- last post by
@ Nov 3, 2007