Ranger (FFIII)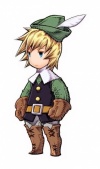 Ranger is a job class in Final Fantasy III.
Rangers are highly skilled in the way of archery. With a bow in hand and arrows readied, rangers can deal the same amount of damage from either the front line or the rear line. (Game Description)
How Obtained

Speak to the Crystal of Fire
Battle Command

Barrage: Perform 4 ranged attacks that target random enemies. Each attack deals less damage than a normal attack.
Related Threads
FFIII Fashion Show!
- last post by
@ Feb 23, 2007
Last edited by
Tifabelle
on 28 April 2013 at 18:02
This page has been accessed 199 times.