Sage (FFIII)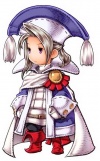 Sage is a job class in Final Fantasy III.
Sages are highly adept mages who have mastered all levels of the black and white arts. While they have numerous techniques at their disposal, their MP is limited compared to magic users who are more specialized. (Game Description)
How Obtained

Speak to the Crystal of Earth
Battle Command

Magic: Cast white and black magic
Magic

Cure
Poisona
Sight
Aero
Toad
Mini
Cura
Teleport
Blindna
Libra
Confuse
Silence
Curaga
Raise
Protect
Aeroga
Stona
Haste
Curaja
Esuna
Reflect
Tornado
Arise
Holy
Fire
Blizzard
Sleep
Thunder
Poison
Blind
Fira
Blizzara
Thundara
Break
Blizzaga
Shade
Thundaga
Raze
Erase
Firaga
Bio
Warp
Quake
Breakga
Drain
Flare
Death
Meteor
Related Threads
FFIII Fashion Show!
- last post by
@ Feb 23, 2007
FFIII Tips for Newbies and Not Newbies. [Post here if you wish to give out tips to other players out there!]
- last post by
@ Jan 20, 2008
Last edited by
Tifabelle
on 28 April 2013 at 18:39
This page has been accessed 171 times.