Spectral Keeper

Spectral Keeper
Location
Zanarkand
Spectral Keeper is a boss enemy from Final Fantasy X that appears in the Zanarkand Dome.
STATS
HP (Ovk)
MP
AP (Ovk)
Gil
52000 (8000)
500
12000 (18000)
7000
Strength
Defense
Magic
Mag Def
36
100
1
100
Agility
Evasion
Accuracy
Luck
36
0
8
15
ELEMENTAL AFFINITIES
Fire
Thunder
Water
Ice
Holy
-
-
-
-
-
STATUS IMMUNITIES & DEFENSES
Sleep
Silence
Darkness
Petrify
Slow
Zombie
Immune
0
Immune
Immune
Immune
Immune
Power Break
Armor Break
Magic Break
Mental Break
Immune
Immune
Immune
0
Poison
(% dmg/turn)
Doom
(# of turns)
Threaten
Death
Immune
Immune
Immune
Immune
Nul Spell
Shell
Protect
Reflect
0
0
0
0
Haste
Regen
Distiller
Sensor
0
0
0
0
Scan
Demi
Delay
Eject
Provoke
Zanmato
0
Immune
Immune
Immune
0
Lv. 4
EQUIPMENT DROP
Drop Ratio
Ability Slots
Abilities Attached
255/256
2-3
1-3
Weapon Abilities
Armor Abilities
Firestrike, Icestrike, Lightningstrike, Piercing, Waterstrike
Fireproof, Iceproof, Lightningproof, Waterproof
BRIBE INFORMATION
Gil Required
-
Items Received
-
OTHER INFORMATION
Item Drop
Lv. 4 Key Sphere
Item Steal
Ether (normal), Turbo Ether (rare)
Abilities
Berserk Tail, Glyph Mine
[edit]
Strategy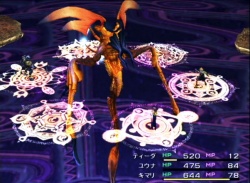 No information has been submitted to this section of the article. You can help the FFWiki by contributing content to this section.

See Also: Bosses (FFX)
Related Threads
spectral keeper boss, easy defeat, no grinding.
- last post by
@ Sep 26, 2012
I need help with Spectral Keeper. please help
- last post @ Dec 12, 2005
The Encounter with Spectral Keeper
- last post by
@ Jun 6, 2004
Spectral Keeper
- last post by
@ Aug 5, 2003
help with spectral keeper
- last post by
@ Feb 14, 2002