Summoner (FFIII)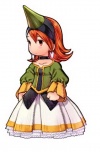 Summoner is a job class in Final Fantasy III.
Summoners are magic users who have harnessed the power of high summoning-- the ability to call forth a combined black and white magic effect. (Game Description)
How Obtained

Speak with the Crystal of Earth
Battle Command

Summon: Call forth a powerful magical beast to attack the enemy or aid the party
Related Threads
My FFIII Experience
- last post @ Oct 3, 2008
Love at first summon (minor spoilers)
- last post by
@ May 15, 2002
FFIII Fashion Show!
- last post by
@ Feb 23, 2007
FFIII Tips for Newbies and Not Newbies. [Post here if you wish to give out tips to other players out there!]
- last post by
@ Jan 20, 2008
Last edited by
Tifabelle
on 28 April 2013 at 18:44
This page has been accessed 175 times.