Tellah

Tellah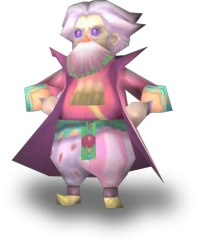 Tellah's Sprite
Tellah is a playable character in the game Final Fantasy IV. He is the Great Sage of Mysidia, and thus is a master of both White and Black Magic. However, due to his old age, he can only remember a few of his many spells. He has a short temper, and will not hesitate to get defensive when something happens to someone or something he is close to. Tellah's MP remains at 90 for the entirety of the game, keeping Meteor out of the player's reach.
It is unknown when Tellah left Mysidia. However, it is known that he had a daughter, Anna. He was overprotective of Anna, especially after the death of his wife. One day, Edward Chris von Muir, the prince of Damcyan disguised as a Bard, came to visit Anna, and the two fell in love and ran away because they could not get Tellah's blessing. Tellah was furious, and went out to search for Anna. However, he was very weak and could not make it on his own. He was having trouble defeating the Octomammoth, a monster that was guarding the Watery Pass. When Cecil and Rydia were traveling through the Watery Pass searching for the Sand Pearl, they came across Tellah and offered their help. Tellah accepted, and the three were able to defeat Octomammoth and head to Damcyan. He also immediately saw Rydia's summoner heritage, stating that she would be a great mage one day with the proper training.
When the Red Wings attacked Damcyan at the behest of Golbez, Anna jumped in front of their arrows to save Edward at the cost of her own life. She managed to live long enough for Tellah to see her before she died, but not before attacking Edward and calling him a spoony bard. After holding his daughter one last time, Tellah runs off to search for the ancient Meteor spell.
Tellah reunites with Cecil on Mount Ordeals, stating that he feels a great magical energy resonating from the mountain. He meets Palom and Porom, two fellow Mysidians who admire him greatly and caution him against the usage of the powerful spell. Upon Cecil's transition into a Paladin, Tellah recalls the Meteor spell as well as every black and white magic available in the game. He returns with the party to Mysidia, where he is warned once again by the Mysidian Elder to abandon his thoughts of revenge, or it will inevitably kill him. He stays with the party as they travel back to Baron, even attempting to remove Palom and Porom's stone status, which failed. At Troia Castle, Tellah says that he has forgiven Edward and starts to care about the man. He even scolds Edward for leaving his bed in his wounded state to play the harp that stopped the Dark Elf from destroying them all.
Tellah dies after using the Meteor spell against Barbariccia disguised as Golbez; his final words being a request to avenge him and Anna. His "Recall" augment can be obtained for the party's usage.
[edit]
Special Abilites
Recall: Remember lost spells (Useless after Mt. Ordeals)
Black Magic: Cast Black Magic Spells
White Magic: Casts White Magic Spells

Tellah's appears in spirit to Edward.
[edit]
Quotes
"You spoony bard!" (to Edward)
Related Threads
How well do you think FuSoYa and Tellah would get along?
- last post by
@ Jan 30, 2003