Thief (FFIII)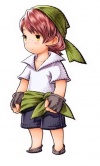 Thief is a job class in Final Fantasy III.
During battle, thieves are able to steal items from the enemy or assist the party in escaping from combat. While on the field, placing a thief at the front of the party will allow you to open locked doors. (Game Description)
How Obtained

Speak to the Crystal of Wind
Battle Commands

Steal: Attempt to pilfer an item from one enemy
Flee: Escape from the battle with a high rate of success
Related Threads
FFIII Tips for Newbies and Not Newbies. [Post here if you wish to give out tips to other players out there!]
- last post by
@ Jan 20, 2008
FFIII Fashion Show!
- last post by
@ Feb 23, 2007