Tros

Tros
Location
Underwater Ruins
Notes
underwater
Tros is a boss enemy from Final Fantasy X that appears in the underwater Salvage Ship.
STATS
HP (Ovk)
MP
AP (Ovk)
Gil
2200 (600)
10
8 (12)
100
Strength
Defense
Magic
Mag Def
10
1
1
1
Agility
Evasion
Accuracy
Luck
12
0
20
15
ELEMENTAL AFFINITIES
Fire
Thunder
Water
Ice
Holy
-
-
-
-
-
STATUS IMMUNITIES & DEFENSES
Sleep
Silence
Darkness
Petrify
Slow
Zombie
0
Immune
Immune
Immune
0
Immune
Power Break
Armor Break
Magic Break
Mental Break
0
0
0
0
Poison
(% dmg/turn)
Doom
(# of turns)
Threaten
Death
0 (25%)
Immune
Immune
Immune
Nul Spell
Shell
Protect
Reflect
0
0
0
0
Haste
Regen
Distiller
Sensor
0
0
0
0
Scan
Demi
Delay
Eject
Provoke
Zanmato
0
Immune
0
Immune
Immune
Lv. 4
EQUIPMENT DROP
Drop Ratio
Ability Slots
Abilities Attached
-
-
-
Weapon Abilities
Armor Abilities
-
-
BRIBE INFORMATION
Gil Required
-
Items Received
-
OTHER INFORMATION
Item Drop
Power Sphere x2
Item Steal
Grenade (normal), Grenade x3 (rare)
Abilities
Nautilus Charge, Tentacles
[edit]
Strategy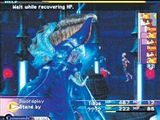 At the outset of this battle you should just look to attack with Tidus and grenade with Rikku, after a while Tros will go and hide. You will now get the option to use a Trigger Command, Standby, you waste your turn but your characters are healed 50HP each. He will come out and attack both characters again. Attack, grenade, and steal when you run low on grenades until he hides again. Once again you will get a Trigger Command, but this time it is called Pincer Attack, surrounding him blocking him from escape. Now just attack and heal until Tros dies.

See Also: Bosses (FFX)