Vagrant Story

This page has been flagged for deletion.

Vagrant Story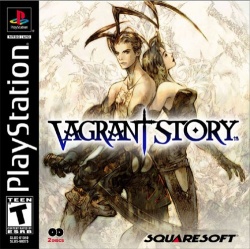 Box Cover
[edit]
Background Information
Vagrant Story is a console role-playing game developed and published by Square (now Square Enix) for the PlayStation video game console in 2000. The game was released in Japan on February 2000 and shortly later on in the year elsewhere in the world.
The game takes place in the fictional kingdom of Valendia and the ruined city of Lea Monde. The story focuses on Ashley Riot, which is a elite agent known as a Riskbreaker, who has to travel to Leá Monde to investigate the link between a cult leader and a senior Valendian Parliament member, Duke Bardorba. In the prologue, Ashley was blamed for murdering the duke, and the game discloses the events that happened one week before the murder.
Vagrant Story is unique as a console action/adventure role-playing game because it features no shops and no player interaction between other characters; instead, the game focuses on weapon creation and modification, as well as elements of puzzle-solving and strategy.
Related Threads
Vagrant Story references in FFXII (Spoilers)
- last post by
@ Feb 7, 2007
The look of Vagrant Story?
- last post by
@ Mar 31, 2006
FFT and Vagrant story are related
- last post by
@ Aug 28, 2003
Tactics has sequel in Vagrant Story
- last post by
@ Apr 26, 2002
FF12 Story Fail: A breakdown for those in denial
- last post by
@ Dec 1, 2009
Last
edited
by
Deathsythe
on 26 February 2009 at 00:11
This page has been accessed 1,034 times.