Viking (Job)
Viking is a job from the Final Fantasy series. Vikings use Axes and Hammers as their weapons.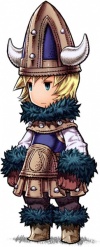 Main Article: Viking (FFIII)
Vikings swing giant hammers and axes with ease. Their only drawback is that they develop slowers than other melee jobs. (Game Description)
Related Threads
New, "powerful" jobs vs. Old jobs with high job level
- last post by
@ Feb 22, 2007
viking???
- last post by
@ Jul 27, 2008
Job Discussion/Debate Thread V1
- last post by
@ Jan 23, 2008
Elimination Game V.1 (Jobs)
- last post by
@ Feb 5, 2007
Job Battles (Round 1.3)
- last post @ Oct 27, 2008