Viking (FFIII)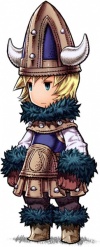 Viking is a job class in Final Fantasy III.
Vikings swing giant hammers and axes with ease. Their only drawback is that they develop slowers than other melee jobs. (Game Description)
How Obtained

Speak to the Crystal of Water
Battle Command

Provoke: Lure an enemy to target the viking. This will decrease the affected enemy's defense
Related Threads
My FFIII Experience
- last post @ Oct 3, 2008
Last edited by
Tifabelle
on 28 April 2013 at 18:48
This page has been accessed 188 times.