Vivi Ornitier
(Redirected from Vivi Orunitia)
Vivi Ornitier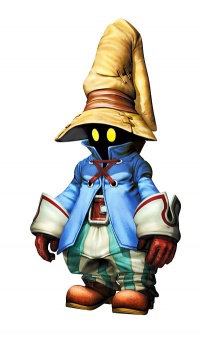 Vivi Ornitier is one of the main playable characters from Final Fantasy IX. Vivi is a small kid that also has no parents. He knows nothing about this past. He is a typical Black Mage. Throughout the game, he thinks he is a doll, created for evil, and that he will "stop" someday. He later learns that's not the real truth for him.
No information has been submitted to this section of the article. You can help the FFWiki by contributing content to this section.
[edit]
Other Appearances
Vivi is a representative of Final Fantasy IX along with Zidane.
Vivi returns in the sequel to represent Final Fantasy IX.
Vivi appears as a Legendary character.
Vivi is a member of Seifer's gang who is fought in the Struggle as Roxas.
[edit]
Quotes
"How do you prove that we exist? Maybe we don't exist..." (FFIX)
"Seifer's real tough, ya know! Did I sound tough? Did I! Tough like Rai, ya know?" (KH2}
[edit]
Gallery

Artwork of Vivi from FFIX by Amano
Last edited by
Tifabelle
on 4 February 2013 at 15:51
This page has been accessed 6,053 times.