White Mage (FFIII)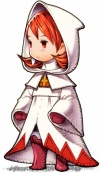 White Mage is a job class in Final Fantasy III.
White mages excel in assisting the party with defensive and restorative white magic. Some offensive magic is also available. They posses low attack power and Defense. (Game Description)
How Obtained

Speak with the Crystal of Wind
Battle Command

Magic: Cast LV. 1 to LV. 7 white magic
Magic

Cure
Poisona
Sight
Aero
Toad
Mini
Cura
Teleport
Blindna
Libra
Confuse
Silence
Curaga
Raise
Protect
Aeroga
Stona
Haste
Curaja
Esuna
Reflect
Related Threads
White Mage or Seer?
- last post by
@ Jul 22, 2009
Changing job from White Mage to Sage
- last post @ Feb 18, 2013
white mages
- last post by
@ Feb 24, 2002
white mage game
- last post by
@ Jul 12, 2007
WHITE MAGE, answer plzz.
- last post by
@ Jan 28, 2007
Last edited by
Tifabelle
on 28 April 2013 at 19:01
This page has been accessed 168 times.