Wild Onion

Wild Onion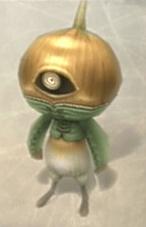 Wild Onion is an enemy from Final Fantasy XII that appears in Paramina Rift.
STATS
Level
HP
MP
Strength
Magic Pwr
Vitality
25-27
1496-1736
999
24-26
20-24
40-46
Speed
Attack Pwr
Defense
Magic Res
Evasion
Exp
20
35-39
14-18
4-6
5
699-907
LP
CP
Gil
1
150-320
0
Elemental Properties
Fire
Ice
Lightning
Water
Wind
Earth
Holy
Dark
-
-
-
-
-
Weak
-
-
Items
Drop
Steal
Poach
Succulent Fruit (common)
Wind Magicite (uncommon)
Antidote (rare)
Float Mote (very rare)
Wind Magicite (common)
Phoenix Down (uncommon)
Succulent Fruit (rare)
Succulent Fruit
Other Info
Immunities
Charm, Confuse, Doom, Lure, Reverse
Attacks/Abilities
Cura, Protect, Ram, Shell, Vespersong, Warsong
Other
-
[edit]
Bestiary Entry
NO.: 097
GENUS: Plant
CLASSIFICATION: Mandragora
[edit]
Observations
Thought to be a variant of mandragora, for the vines that reach up from its collar, covering its face like a mask.
Notes the famed naturalist, Merlose: 'It weareth its skin in layers, much like to the root of similar name, perhaps for the proffering of protection 'gainst the cold. Men say the great gaping orifice on its face was gouged by a shard of ice born of a midsummer blizzard. Though its former mouth was passing small, befitting naught but low whimp'ring, its prodigious new one screameth full loud and full much as the foul beast could want, thence earning it its name.'
[edit]
Street-Corner Mutterings
There's plenty of work in the world. I don't know what it is you want to become, but take my advice: look at the tricks of many trades, and look well.
If nothing else, the knowledge you gain will help you on your travels. And visit shops frequently: you'll find what you need sooner or later.
Nakhiro, Onion Knight