Wild Saurian

Wild Saurian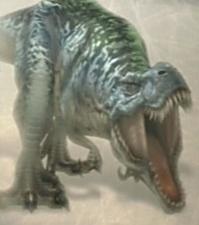 Wild Saurian is an enemy from Final Fantasy XII that appears in the Dalmasca Estersand.
STATS
Level
HP
MP
Strength
Magic Pwr
Vitality
29-30
29-30
6001-6111
7226-7566
165-215
180-270
29-31
32-35
12-13
12-14
43-46
45-50
Speed
Attack Pwr
Defense
Magic Res
Evasion
Exp
20-21
20-22
39-42
44-47
16-18
18-20
8-9
19-21
0
0
2753-2766
3366-3492
LP
CP
Gil
2
2
413-517
450-729
0
0
Elemental Properties
Fire
Ice
Lightning
Water
Wind
Earth
Holy
Dark
-
-
-
-
Weak
-
-
-
Items
Drop
Steal
Poach
Tanned Hide (common)
Earth Crystal (uncommon)
Chronos Tear, Tyrant Bone (rare)
Bone Helm, Bone Mail (very rare)
Tanned Hide (common)
Hi-Potion (uncommon)
Leo Gem (rare)
Tanned Hide (common)
Tyrant Bone (rare)
Other Info
Immunities
Disable, Disease, Doom, Lure, Petrify, Poison, Sap, Stop
Attacks/Abilities
Cannibalize, Fangs, Ram
Other
-
[edit]
Bestiary Entry
NO.: 004
GENUS: Dragon
CLASSIFICATION: Tyrant
[edit]
Observations
Once lords of the land together with the other wyrmkin; a war with the gods dwindled their numbers to a mere fraction of their former glory.
This giant creature possesses sharp teeth in its sizable maw by which it catches and rends the flesh of its prey, and a grand tail, the latter being used for balance as it strides upon two powerfully appointed hind legs.
[edit]
Mysteries of the Ancients
One of the singular problems in clearing new lands is, surprisingly enough, the removal of monstrous bones, they being far more resistant to wear, and far heavier, than those of men.
The worst of these by far are tyrant bones.
Though they too will erode over the ages, their weight and strength are most uncommon, and even the hottest flame will leave no mark upon them.
To expect anything less from such a bone would be to forget the awesome might of the tyrant from whence it came.
Related Threads
Wild saurian Battle
- last post by
@ Jul 9, 2007
Lv 99 Wild Saurian
- last post by
@ Jun 21, 2007