Wolf (FFXII)

Wolf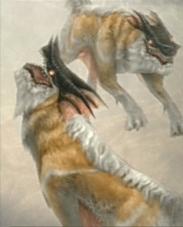 Wolf is an enemy from Final Fantasy XII found in the Dalmasca Estersand and Dalmasca Westersand.
STATS
Level
HP
MP
Strength
Magic Pwr
Vitality
2-7
3-4,8-9
94-134
135-155
30-40
60-65
8-10
11-12
2
5
12
15
Speed
Attack Pwr
Defense
Magic Res
Evasion
Exp
10
10
8-10
11-12
4
5
7
7
0
0
9-13
16-18
LP
CP
Gil
1
1
15-47
26-42
0
0
Elemental Properties
Fire
Ice
Lightning
Water
Wind
Earth
Holy
Dark
-
-
-
-
-
Weak
-
-
Items
Drop
Steal
Poach
Wolf Pelt (common)
Wind Stone
Potion (rare)
Antidote (very rare)
Wind Stone (common)
Wolf Pelt (uncommon)
Pointy Hat (rare)
Wolf Pelt (common)
Eye Drops (rare)
Other Info
Immunities
Disable, Doom, Lure, Sap
Attacks/Abilities
Fangs, Lunge
Other
-
[edit]
Bestiary Entry
NO.: 003-A
GENUS: Beast
CLASSIFICATION:Wolf
[edit]
Observations
Agile, swift, and keen of tooth, the wolf is the preeminent hunter. Widely known to hunt in packs led by an alpha. Though once they lived in close harmony with mankind, fierce competition over prey brought Man to shun and eventually revile them. Thereafter, the wolves took to the eating of monsters, from this arising diverse strains of wolf, varying greatly in form and adaptation, befitting their diet.
[edit]
Sage Knowledge (46 of 78)
Dalmasca Estersand
One of the large desert regions of Dalmasca, located to the east of Rabanastre. Rife with all manner of monstrous beasts, it regularly plays host to hunts organized within the city.
What settlements there are line the banks of the River Nebra, a vibrant blue vein running through the heart of the sands, wherein can be found ferries for the conveyance of travelers and goods across her flow. Many merchants make a point of stopping in the villages to trade on their way to and from Rabanastre.