Crystal Defenders

Crystal Defenders
Alternative Title(s):
Developer(s):
Square Enix, TOSE
Publisher(s):
Square Enix
Series:
Engine:
Native Resolution:
Version:
Platform:
Mobile Phone, PlayStation Network,
Xbox Live Arcade, WiiWare
Release Date(s):
Mobile Phone
*[JP] January 28, 2008
PSN
*[NA] August 6, 2009 (PS3)
*[INT] July 23, 2009 (PS3)
*[INT] October 29, 2009 (PSP)
XBLA
*[INT] March 11, 2009
WiiWare
*[JP] January 27, 2009
*[NA] April 20, 2009 (R1)
*[NA] May 18, 2009 (R2)
*[EU] April 24, 2009 (R1)
*[EU] May 22, 2009 (R2)
Genre(s):
Tower Defense
Mode(s):
Single Player
Players:
Rating(s):
ESRB: E, PEGI: 7+, Apple: 4+
Media:
Crystal Defenders (or Crystal Guardians) is spin-off game which adapts its game play from Tower Defense and contains job sets from Final Fantasy Tactics A2: Grimoire of the Rift. There are three (two on the Wii) levels of difficulty with a set of maps for each and challenges the players to stop enemies from stealing crystals.
[edit]
Gameplay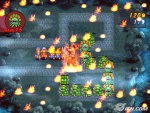 The player starts with a total of 20 crystals. Every time an enemy successfully reach from one end of the path to the crystals the player loses one. The enemies in the game comes in waves much like other Tower Defense games and they grow progressively stronger. The total score the player receives at the end depends on the number of waves survived and the amount of money left.
[edit]
Additional Information
No information has been submitted to this section of the article. You can help the FFWiki by contributing content to this section.
Related Threads
please join the guild to beat other top guilds such as crystal defenders,and twighlight knights
- last post @ Aug 25, 2009
Crystal Defenders
- last post by
@ Feb 17, 2009