Fabula Nova Crystallis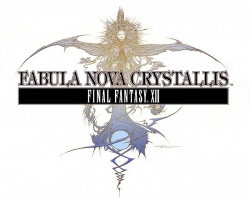 Fabula Nova Crystallis Final Fantasy XIII is the name given to a compilation of games utilizing the same mythos. Fabula Nova Crystallis is Latin for "the Tale of the New Crystal". This new project has been described as a "100 million yen project", in comparison to the Compilation of Final Fantasy VII which was Square Enix's last "50 million yen project". Like the Compilation of Final Fantasy VII this project will also span multiple platforms.
[edit]
A Common Mythos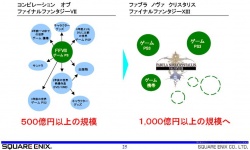 This compilation of games revolves around a common mythos of "crystals that lead the world towards the future". These crystals will be the center point of each game in the compilation, although their roles will most likely be different in each individual game. According to Square Enix, these games will all take place within the same universe, but will not be directly relate to one another.
[edit]
Entries
Below is a list of the media that are apart of FNC:
Each of these games were being developed by separate teams within Square Enix. Whilst Final Fantasy XIII is a traditional turn-based RPG, Final Fantasy XV will be more action-orientated RPG, reflected by the fact that this game is being developed by the same team who developed the Kingdom Hearts series. Final Fantasy Type-0 was released for the PSP in Japan, and Final Fantasy Agito is its sequel. Final Fantasy XIII-2 is a direct sequel to Final Fantasy XIII, and Lightning Returns is a direct sequel to Final Fantasy XIII-2.
There has been speculation regarding a possible fourth game in the series. Around May 2006, Square Enix patented the name Final Fantasy Haeresis XIII and a logo was later released on the Internet, although no further artwork has been released since.
Square Enix have noted in the past that this compilation will span 6 games, although only the above are known so far.
Related Threads
Fabula Nova Crystallis
- last post by
@ May 13, 2006
CLOUD Art-book and NEW Fabula Nova Crystallis Trailers UP NOW !
- last post by
@ Mar 18, 2008
Fabula Nova Crystallis Mythology
- last post by
@ Apr 24, 2011
Date/Name changed for Fabula Nova Crystallis conference
- last post by
@ Dec 14, 2010