Final Fantasy Tactics Advance

Final Fantasy Tactics Advance

Box Art
Alternative Title(s):
FFTA
Developer(s):
Square
Publisher(s):
Square
Series:
Final Fantasy
Engine:
Native Resolution:
Version:
Platform:
Game Boy Advance
Release Date(s):
*[JP] February 24, 2003
*[NA] September 8, 2003
*[PAL] October 24, 2003
Genre(s):
Tactical Role-Playing Game
Mode(s):
Single Player, Multiplayer
Players:
Rating(s):
ESRB: E, PEGI: 3+,
OFLC: G8+
Media:
128 Megabit Cartridge
Final Fantasy Tactics Advance tells the story of a young boy named Marche, who moves to the more natural environment of St. Ivalice to provide a better home for his brother, Doned, who has an unnamed disease which paralyzes him, and has done since birth.
At school, Marche soon befriends Ritz, a stubborn girl who seems like an outcast at the school, and Mewt, a quiet boy. Soon, Marche and his friends explore a strange book, the Gran Grimoire, found by Mewt, only to be thrown into a magical realm where nothing is the same but the nation's name, Ivalice. Confilcts arise, and Marche even has to fight his friends to escape from this strange world he is trapped in...
The story begins with the player in the town of Ivalice: Marche is a new student at the school and, as an outcast himself, meets two friends Ritz and Mewt during a tutorial snowball fight. The three then plans to meet later to take a look at an ancient book that Mewt had was planning to buy. Unaware of the mystic power of the tome (Gran Grimoire) Mewt brings over the book to Marche's house along with Ritz. The very next day, Marche awakes in the world of Ivalice. Marche befriends a Moogle named Montblanc and begins the quest to return himself to his own world. Throughout his adventures in the world of Ivalice, Marche eventually finds out that the world is created out of the dreams of Mewt and is held together by several Crystals guarded by different Totema. Conflicts arise as to whether or not they should stay in their dream world, a world where Mewt is no longer teased, Ritz no longer has to deal with the shame of her naturally white hair, Doned (Marche's handicapped brother) can walk free and Marche do not have to abandon his warrior status and power to return to the normal world. Eventually through the help of Babus and Judgemaster Cid (who is also Mewt's father) Marche was able to defeat the Queen Remedi (a representation of Mewts deceased mother) and return the world back to the way it was. In the end, the three comes in terms with themselves and was wiser and happier due to their experiences in Ivalice.
[edit]
Gameplay
[edit]
Battle System
This game is a turn based RPG in which the player's characters are given the option to either move and act or act and then move. The player is able to view the enemy stats and terrain before choosing who to put into battle. A judge is present to enfore the laws and dead units are sometimes moved by the judge to clear battle space. The order of who moves is determined by the speed stat of the unit.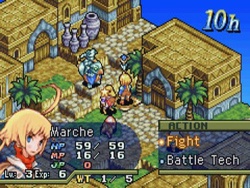 The world of Final Fantasy Tactics Advance is populated by clans, who are in constant competition for territory on the hierarchy of clans. Your clan is made up of the units who will assist you in battles and on missions; so the more diverse, the better.
In the world of Ivalice, the character and recruits to the clans can choose jobs with different abilities. There are different jobs available to different races and some jobs requires mastering basics jobs' abilities in order to choose it. Here is a brief list:
Soldier - N/A
Paladin - 2 Soldier
Fighter - 2 Soldier
Archer - N/A
Hunter - 2 Archer
Thief - N/A
Ninja - 2 Thief
White Mage - N/A
Black Mage - N/A
Illusionist - 3 White Mage, 5 Black Mage
Blue Mage - 1 White Mage, 1 Black Mage
Warrior - N/A
Dragoon - 2 Warrior
Defender - 2 Warrior
Gladiator - 2 Warrior
White Monk - N/A
Templar - 2 White Monk
Bishop - 2 White Monk
Animist - N/A
Mog Knight - 1 Animist
Gunner - 1 Animist
Thief - N/A
Juggler - 2 Thief
Gadgeteer - 2 Thief
Black Mage - N/A
Time Mage - 5 Black Mage
Beastmaster - N/A
Morpher - 5 Beastmaster
Black Mage - N/A
White Mage - N/A
Time Mage - 5 Black Mage
Alchemist - 3 White Mage, 5 Black Mage
Illusionist - 3 White Mage, 5 Black Mage
Sage - 3 White Mage, 2 Beastmaster
Fencer - N/A
Red Mage - 1 Fencer
Archer - N/A
Sniper - 2 Archer
White Mage - N/A
Elementalist- 1 White Mage, 1 Fencer
Summoner - 2 White Mage, 2 Elementalist
Assassin - 2 Elementalist, 1 Sniper
[edit]
Missions
Progress through the game is made by completing missions and accepting posted bills through the pubs scattered across the land.
[edit]
Characters

See Also: Characters
[edit]
Additional Information
No information has been submitted to this section of the article. You can help the FFWiki by contributing content to this section.
Related Threads
Make other Final Fantasy Characters in Tactics Advance
- last post by
@ Jan 28, 2007
tactics advance 2?
- last post by
@ Oct 27, 2004
Final Fantasy Tactics Advance 2: Grimoire of the Rift Header/Footer Contest!
- last post by
@ Aug 27, 2008
Let's Play Final Fantasy Tactics Advance
- last post @ May 22, 2012
Final Fantasy XII ....a remake of tactics advance
- last post by
@ May 10, 2006