Final Fantasy XIV: Heavensward

Final Fantasy XIV: Heavensward

Heavensward Logo
Alternative Title(s):
FFXIV
Developer(s):
Square Enix
Publisher(s):
Square Enix
Series:
Final Fantasy
Engine:
Native Resolution:
Version:
Platform:
Playstation 3, Playstation 4, Microsoft Windows, Macintosh
Release Date(s):
June 23, 2015
Genre(s):
Massively Multiplayer Online Role-Playing Game (MMORPG)
Mode(s):
Multiplayer
Players:
Rating(s):
PEGI: 16+, ESRB: T
Media:
Final Fantasy XIV: Heavensward is the first expansion pack for Final Fantasy XIV: A Realm Reborn. It made the game available for Mac users for the first time.
Main Article: Plot (Heavensward)
Following the events of A Realm Reborn, the Warrior of Light, Alphinaud, and Tataru venture into Ishgard. In this isolated realm, they find themselves entwined in the Dragonsong War which has raged between Ishgard and Dravania for thousands of years.
[edit]
Major Changes
The expansion brought a slew of changes and additions to the game including:
New areas to explore & a new set of quests, side quests, FATEs, trials, and dungeons.
Increasing the level cap for all job classes to 60, and new job quests have been added.
Three new classes: Astrologian, Dark Knight, and Machinist.
Flying mounts have been implemented.
The Au Ra race is now playable.
Each class now has a unique Level 3 Limit Break.
Free Companies can build their own airships, and Workshops have been added to Free Company housing.
Allagan Tomestones of Soldiery are no longer available, and Allagan Tomestones of Law have been added.
New gear, items, and furniture have been added.
New Triple Triad cards and NPCs have been added.
The Sightseeing Log has been expanded to include the new areas.
New enemies and Marks can be found in the new areas.
The Splendors Exchange has been added for Disciples of the Land and Hand to trade in collectibles.
Players can now specialize in a maximum of three crafting classes.
[edit]
Additional Information
[edit]
Benchmark
A benchmark program was released in April 2015 featuring new support for DirectX 11, and allowing players to create an Au Ra character.
[edit]
Packaging & Distribution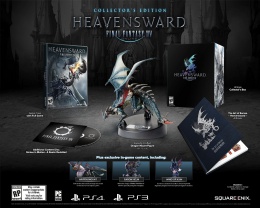 Final Fantasy XIV: Heavensward was available for purchase as a stand-alone expansion, or packaged with A Realm Reborn base game. Those that pre-ordered the expansion were granted early access to the content.
A Collector's Edition was also sold which included the expansion disc, a Heavensward art book, a dragon figure, an HD disc containing all trailers for A Realm Reborn, and digital in-game items.
Related Threads
Watch Final Fantasy XIV: Heavensward's launch trailer, as Early Access countdown ticks lower
- last post by
@ Jun 19, 2015
Final Fantasy XIV: Heavensward Collector's Edition unveiled as pre-orders open, store servers close
- last post by
@ Mar 24, 2015
UNUSED! PC Collectors Edition Heavensward CD KEY! for trade!
- last post by
@ Jul 3, 2015
HEAVENSWARD Announcements Part 2: Primals, Flying Mounts, and a New Job!
- last post by
@ Oct 29, 2014
HEAVENSWARD: FINAL FANTASY XIV ONLINE coming Spring 2015
- last post by
@ Apr 5, 2015