Lightning Returns: Final Fantasy XIII

Lightning Returns: Final Fantasy XIII

North American PS3 Box Art
Alternative Title(s):
Final Fantasy XIII-3
Developer(s):
Square Enix
Publisher(s):
Square Enix
Series:
Final Fantasy
Engine:
Native Resolution:
Version:
Platform:
Playstation 3
XBOX360
Release Date(s):
- November 21, 2013
- February 11, 2014
- February 14, 2014
Genre(s):
Role-Playing Game (RPG)
Mode(s):
Players:
Single Player
Rating(s):
Media:
Blu-ray Disc [PS3]
DVD-DL [XBOX360]
Lightning Returns: Final Fantasy XIII is a Playstation 3 and Xbox 360 game that is a direct sequel to Final Fantasy XIII and Final Fantasy XIII-2 as part of the Fabula Nova Crystallis collection. The game is directed by Motomu Toriyama.
Main Article: Plot (Lightning Returns)
Lightning Returns: Final Fantasy XIII is the conclusion to Lightning's story, set 500 years after Final Fantasy XIII-2. Due to the merging of Valhalla and Gran Pulse after Etro's death, humanity has stopped aging and the merged world is called Nova Chrysalia. The game takes place over thirteen days beginning with Lightning's awakening and focus on the fal'Cie god, Bhunivelze.
[edit]
Gameplay
The player controls Lightning, the only playable character, in an open-world environment. Depending on the player's actions, Lightning may gain or lose time. There are various routes through the game, and players may not see all cutscenes in one playthrough, encouraging multiple playthroughs.
Monsters range in size and can appear in cities as well as the wilderness.
[edit]
Battle System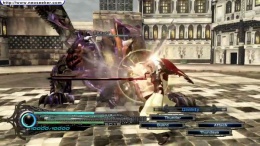 The battle system in Lightning Returns will be an updated version of the battle systems from the previous two games. Players will be able to control Lightning's movements during battle. Actions can be mapped to the buttons on the controller instead of choosing actions from a menu. Similar to the Paradigm system, Lightning will have different Styles which can be changed during battle. Each Style features a different costume, weapon, accessories, and abilities.
[edit]
Characters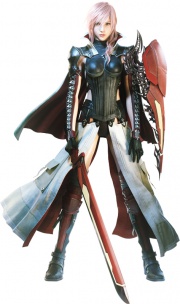 [edit]
Additional Information
[edit]
Packaging & Distribution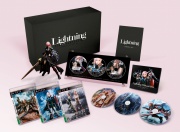 In Japan, an Ultimate Box will be available that includes all three Final Fantasy XIII games, complete soundtrack, artbook, and label stand. A Playarts Kai figure of Lightning in her Lightning Returns outfit is packaged with the set. The set will be sold for ¥26000 (~$260).
[edit]
Gallery
| | | |
| --- | --- | --- |
| Concept art of Lightning | Logo | North American Xbox Box Art |
| European PS3 Box Art | Japanese Box Art | Korean Box Art |
Related Threads
LIGHTNING RETURNS™: FINAL FANTASY® XIII
- last post by
@ Sep 4, 2012
Do you need to play dlc before playing Lightning returns
- last post @ Aug 18, 2015
Aeriths outfit in lightning returns
- last post by
@ Dec 16, 2013
Lightning Returns: Final Fantasy XIII to see PC release in December
- last post by
@ Oct 20, 2015
Final Fantasy XIII: Lightning Returns DLC released today, dress your hero
- last post by
@ Mar 13, 2014