Medals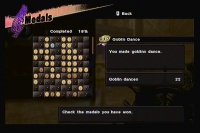 Medals in Final Fantasy Crystal Chronicles: The Crystal Bearers can be collected as a side quest in the game. There are a total of 330 medals in various ways including by collecting items or playing mini-games. Although they are numbered, the medals do not have to be completed in order, however certain medals can not be unlocked until certain events have transpired. The collection can be viewed by visiting the menu and choosing "Medals". The screen will display the percentage of the collection that is completed, list each type of medal obtained, and offer some hints on how to obtain specific medals.
Click on a link below to view how to obtain each medal:
Related Threads
Magic Medals-help
- last post by
@ Jan 18, 2004
what is the medal quest all about in Rabanastre?
- last post by
@ Aug 3, 2007