Soul Break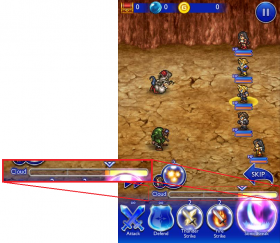 Soul Break is a gameplay element in Final Fantasy Record Keeper that is similar to the Limit Break seen in other Final Fantasy games. Each character has a unique, default Soul Break attack. However, there are some special Soul Breaks that can be used when equipped with a specific weapon or piece of armor.
The Soul Break gauge is divided into three segments. Most Soul Breaks only require one segment to be filled in order to execute, but some special Soul Breaks require two segments. The gauge fills each time a party member takes damage.
When a Roaming Warrior is summoned, they will use the Soul Break that their player has assigned to them.
| Image | Name | Effect | Target | Segments | Used By | Acquired |
| --- | --- | --- | --- | --- | --- | --- |
| | Judgment Grimoire | Call forth a giant sword to strike all targets. | All | 1 | Tyro | default |
| | Healing Grimoire | Restore HP to the party. | All | 2 | Tyro | equip Healing Grimoire |
| | Sentinel's Grimoire | Call forth an enormous shield to protect the party. | All | 1 | Tyro | equip Sentinel's Grimoire |
| | Double Attack I | Attack twice in quick succession. | Single | 1 | Warrior | default |
| | Double Attack II | Attack twice in quick succession. | Single | 2 | Warrior | equip Dual Tomahawk (III) |
| | Darkbolt | Deal dark magic damage to one target. | Single | 1 | Black Mage | default |
| | Magic Signet | Temporarily increase the user's Magic. | Self | 1 | Black Mage | equip Light Rod (III) |
| | Prayer | Restore a very small amount of HP to the party. | All | 1 | White Mage | default |
| | Divine Signet | Temporarily increase the user's Mind. | Self | 1 | White Mage | equip Light Staff (III) |
| | Steady Shot I | Fire an unerring shot. | Single | 1 | Ranger | default |
| | Steady Shot II | Fire an unerring shot. | Single | 1 | Ranger | equip Killer Bow (V) |
| | Valor Minuet I | Temporarily increase party's Attack. | All | 1 | Bard | default |
| | Valor Minuet II | Temporarily increase party's Attack. | All | 2 | Bard | equip Madhura Harp (III) |
| | Knight's Shield I | Raise user's Defense for a short time. | Self | 1 | Knight | default |
| | Knight's Shield II | Raise user's Defense for a short time. | Self | 1 | Knight | equip Diamond Helm (III) |
| | Doublecast Fire | Cast Fire twice in a row. | Single | 1 | Red Mage | default |
| | Doublecast Thunder | Cast Thunder twice in a row. | Single | 1 | Red Mage | Feathered Hat (III) |
| | Call I | Call a random summon to your aid. | Single | 1 | Summoner | default |
| | Call II | Call a random summon to your aid. | Single | 1 | Summoner | equip Gaia Vest (III) |
| | Critical I | Launch an all-or-nothing attack. | Single | 1 | Gladiator | default |
| | Copy Image I | Evade one physical attack directed at the user. | Self | 1 | Ninja | default |
| | Class Change | Raise user's Attack, Defense, Magic, and Resistance. | Self | 1 | Warrior of Light | default |
| | Shining Wave | Attack one target with a wave of light. | Single | 1 | Warrior of Light | equip Sun Blade (I) |
| | Fists of Fury | Deal physical damage to one target. | Single | 1 | Josef | default |
| | Noble Sacrifice | KO self to significantly raise allies' Attack. | All | 1 | Josef | equip Giant's Gloves (II) |
| | Hidden Potential | Raise user's Attack, Defense, Magic, and Resistance. | Self | 1 | Gordon | default |
| | Spear Master | Deal physical damage to one target. | Single | 1 | Ricard | default |
| | Mark of the Warrior | Raise user's Attack for a short time. | Self | 1 | Luneth | default |
| | Advance | Raise user's Attack while lowering Defense. | Self | 1 | Luneth | equip Tyrfing (III) |
| | Mass Shell | Give the party Shell. | All | 1 | Arc | default |
| | Martial Arts | Raise user's Attack and Accuracy. | Self | 1 | Refia | default |
| | Blood Weapon | Steal HP from one target. | Single | 1 | Cecil, Dark Knight | default |
| | Darkness | Deal damage to all enemies and user. | All | 1 | Cecil, Dark Knight | equip Dark Sword (IV) |
| | Dark Cannon | Heavily damage one target and the user. | Single | 1 | Cecil, Dark Knight | equip Dark Armor (IV) |
| | Rampart | Temporarily increase party's Defense and Resistance. | All | 1 | Cecil, Paladin | default |
| | Sentinel | 'Temporarily attract single-target physical attacks. | Self | 1 | Cecil, Paladin | equip Lustrous Shield (IV) |
| | Radiant Wings | Launch three successive attacks, dealing holy damage to random targets. | Single | 1 | Cecil, Paladin | equip Mythgraven Blade (IV) |
| | Double Jump | A powerful attack on one target. | Single | 1 | Kain | default |
| | Lancet | Steal HP from one target. | Single | 1 | Kain | equip Blood Lance (IV) |
| | Summon Eidolon I | Summon Chocobo. | All | 1 | Rydia | default |
| | Summon Eidolon II | Summon Shiva. | All | 1 | Rydia | equip Ice Whip (IV) |
| | Mass Regen | Grant Regen to all allies. | All | 1 | Lenna | default |
| | Royal Devotion | Revive and fully restore one KO'd ally. | Single | 1 | Lenna | equip Healing Staff (V) |
| | Trance Attack | Enter Trance and deal physical damage to one target. | Single | 1 | Terra | default |
| | Trance Fira | Enter Trance and cast fire elemental magic on all targets. | All | 1 | Terra | equip Enhancer (IV) |
| | Sneak Attack | Strike from the back row with no penalty. | Single | 1 | Locke | default |
| | Mirage Dive | Attack and Slow all targets. | All | 1 | Locke | equip Rising Sun (VI) |
| | Magic Shield | Raise party's Resistance for a short time. | All | 1 | Celes | default |
| | Runic Blade | Absorb offensive black magic to restore ability uses. | Self | 1 | Celes | equip Soul Sabre (VI) |
| | Bushido Fang | Deal physical damage to one target. | Single | 1 | Cyan | default]] |
| | Bushido Flurry | Deal four attacks to random targets. | Single | 1 | Cyan | equip Kiku-ichimonji (VI) |
| | Auto Crossbow | Deal ranged damage to all targets. | All | 1 | Edgar | default |
| | Bioblaster | Deal physical poison damage to all targets and Poison them. | All | 1 | Edgar | equip Partisan (VI) |
| | Raging Fist | Deal physical damage to one target. | Single | 1 | Sabin | default |
| | Rising Phoenix | Deal physical fire damage to all targets. | All | 1 | Sabin | equip Kaiser Knuckles (VI) |
| | Sonic Break | Unleash three rapid sword slashes. | Single | 1 | Cloud | default |
| | Braver | Unleash a powerful attack on one target. | Single | 1 | Cloud | equip Buster Sword (VII) |
| | Cross Slash | Damage and Paralyze one target. | Single | 1 | Cloud | equip Hardedge (VII) |
| | Seal Evil | Stop and Silence all targets. | All | 1 | Aerith | default |
| | Healing Wind | Restore some HP to the party. | All | 1 | Aerith | equip Guard Stick (VII) |
| | Beat Rush | Unleash a flurry of punches on one target. | Single | 1 | Tifa | default |
| | Somersault | Deliver an acrobatic kick to one target. | Single | 1 | Tifa | equip Grand Glove (VII) |
| | Oblivion | Deliver a lightning-quick sword slash. | All | 1 | Sephiroth | default |
| | Hell's Gate | Unleash a deadly dive from above. | All | 1 | Sephiroth | equip Masamune (VII) |
| | Shadow Flare | Damage and have a moderate chance to Blind all targets. | All | 1 | Sephiroth | equip One-Winged Angel (VII) |
| | Sled Fang | Deal physical damage to one target. | Single | 1 | Red XIII | default |
| | Lunatic High | Give the party Protect and Haste. | All | 1 | Red XIII | equip Diamond Pin (VII) |
| | Blade Flurry | Deal three successive attacks to random targets. | Single | 1 | Squall | default |
| | Rough Divide | Unleash a powerful attack on one target. | Single | 1 | Squall | equip Revolver (VIII) |
| | Angelo Cannon | Deal ranged damage to one target. | Single | 1 | Rinoa | default |
| | Angel Wing Bolt | Unleash a barrage of magical lightning bolts at random targets. | Single | 1 | Rinoa | equip Valkyrie (VIII) |
| | Normal Ammo | Fire successive shot attacks. | Single | 1 | Irvine | default |
| | Fast Ammo | Fire ten successive shot attacks. | Single | 1 | Irvine | equip Valiant (VIII) |
| | Electrocute | Deal magic lightning damage to all targets. | All | 1 | Quistis | default |
| | Maser Eye | Deal magic non-elemental damage to all targets. | All | 1 | Quistis | equip Sleipnir's Tail (VIII) |
| | Wall | Give one ally Protect and Shell. | Single | 1 | Selphie | default |
| | Trabia's Light | Restore HP to all allies. | All | 1 | Selphie | equip Morning Star (VIII) |
| | Song of Memories | Raise party's Attack. | All | 1 | Garnet | default |
| | Ramuh | Summon Ramuh, dealing heavy magic lightning damage to all targets. | All | 1 | Garnet | equip Storm Staff (IX) |
| | Focus Magic | Temporarily raise user's Magic. | Self | 1 | Vivi | default |
| | Doublecast Venom | Deal two successive magic poison attacks. | Single | 1 | Vivi | equip Oak Staff (IX) |
| | Delay Attack | Attack and Slow one target. | Single | 1 | Tidus | default |
| | Spiral Cut | Unleash a powerful attack on all targets. | All | 1 | Tidus | equip Brotherhood (X) |
| | Grand Summon I | Summon Valefor. | All | 1 | Yuna | default |
| | The Sending | Deal magic holy damage to all targets. | All | 1 | Yuna | equip Magistral Rod (X) |
| | Element Reels | Deal water elemental damage to all targets. | All | 1 | Wakka | default |
| | Status Reels | Damage and decrease an enemy's Defense and Resistance. | Single | 1 | Wakka | equip Official Ball (X) |
| | Seed Cannon | Deal ranged damage to one target. | Single | 1 | Kimahri | default |
| | Fires of War | Deal physical damage to all targets. | All | 1 | Balthier | default |
| | Tides of Fate | Deal physical water damage to all targets. | All | 1 | Balthier | equip Ras Algethi (XII) |
| | Feral Strike | Deal damage to one target. | Single | 1 | Fran | default |
| | Whip Kick | Deal damage to one target and reduce its Defense and Resistance. | Single | 1 | Fran | equip Loxley Bow (XII) |
| | Mediguard | Grant Regen and Protect to user. | Self | 1 | Snow | default |
| | Froststrike | Deal water damage to one target. | Single | 1 | Snow | equip Wild Bear (XIII) |
| | Deshell | Deal magic damage to all targets and lower their Resistance. | All | 1 | Vanille | default |
| | Deprotega | Deal magic damage to all targets and lower their Defense. | All | 1 | Vanille | Binding Rod (XIII) |
| | Earthquake | Deal magic earth damage to all targets. | All | 1 | any | equip Gaia Blade (II) |
| | Dark Shot | Deal physical dark damage to one target. | Single | 1 | any | equip Dark Helm (IV) |
| | Slowing Strike | Damage and have a moderate chance to Slow one target. | Single | 1 | any | equip Wind Spear (IV) |
| | Bladestorm Flames | Deal physical fire damage to all targets. | All | 1 | any | equip Flame Sword (IV) or Heat Lance (X) |
| | Blinding Shot | Damage and sometimes Blind one target. | Single | 1 | any | equip Hawkeye (VI) |
| | Lightning Slash | Deal lightning elemental combat damage to all targets. | All | 1 | any | equip Thunder Blade (VI) |
| | Mystic Prayer | Restore a small amount of HP to the party. | All | 1 | any | equip Mystery Veil (VI) |
| | Bladestorm Rain | Deal physical water damage to all targets. | All | 1 | any | equip Murasame (VII) |
| | Light of Ruin | Deal magic holy damage to all targets. | All | 1 | any | equip Full Metal Staff (VII) |
| | Stunner | Damage and have a moderate chance to Stop one target. | Single | 1 | any | equip Shark (VII) |
| | Veil of Protection | Give the party Protect. | All | 1 | any | equip Gold Armlet (VII) or Kaiser Shield (XII) |
| | Cyclone | Deal magic wind damage to all targets. | All | 1 | any | equip Fujin's Chakram (VIII) |
| | Darkest Cut | Damage all targets and the user. | All | 1 | any | equip Betrayal Sword (VIII) |
| | Veil of Annulment | Give the party Shell. | All | 1 | any | equip Minotaur Plate (VIII) or Emerald Bracer (X) |
| | Mending Touch | Revive one KO'd ally. | Single | 1 | any | equip White Robe (IX) |
| | Engulfing Flames | Deal magic fire damage to all targets. | All | 1 | any | equip Black Robe (IX) |
| | Sonic Buster | Deal three consecutive attacks to random targets. | Single | 1 | any | equip Soldier's Sabre (X) |
| | Blessing of Spira | Remove all debuffs from one ally. | Single | 1 | any | equip Monk Robe (X) |
| | Rend Weapon | Damage and reduce the Attack of all targets. | All | 1 | any | equip Gladius (XII) |
| | Cerulean Shock | Deal physical water damage to all targets. | All | 1 | any | equip Viking Coat (XII) |
| | Thunder Trap | Deal magic lightning damage to one target and Paralyze it. | Single | 1 | any | equip Hunter's Rod (XIII) |
| | Meteorite | Deal magic non-elemental damage to all targets. | All | 1 | any | equip Behemoth Knife |